I'm a firm believer that good design should be both functional and beautiful. One of the most important places for function is a family room that should work for the whole family. As a mom of three very energetic boys I know how homes can suffer from serious wear and tear. Pets are also an important consideration, particularly if they go on the furniture. Here are 5 simple tips to keep in mind:
1) Consider the Layout to Maximize Use. Think about how the space will be used most of the time and orient the furniture around that purpose. For example if it's mostly a space to lie back and watch television then the major pieces should be oriented around the television, and you may also have zones for conversation or a comfy chaise to lie back and read a book. Include versatile seating options like stools and poufs that can be moved around. These pieces are also often kid friendly and add a fun casual element to the space.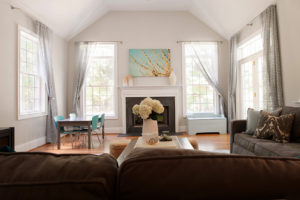 2) Use Kid-Friendly Materials. Consider both safety and durability. I love reclaimed wood and distressed leathers in family rooms because if they get a little scratched up it just adds to the character. Upholstered coffee table ottomans are great because they have soft edges and can function as additional seating if needed.
Look for upholstered pieces in tightly wound fabrics with high thread counts. Of the natural fibers consider wool, leather l and cotton blends for extra durability. Linen and silk are not great for daily use. Synthetic fibers like acrylic can be more durable but subject to pilling and are not always environmentally-friendly.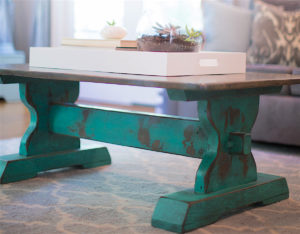 3) Think About the Shapes. Round coffee tables made of wood are nice in family rooms so that there are no sharp edges and to maximize the flow in a space. If you have climbers like I do and you want to discourage climbing on sofa arms avoid square arm styles.
If you're tight on space consider low arm or no arm options which will make your space look larger. A lot of harsh lines in a space can visually divide it up, so look for rounded options and organic shapes or slimmer versions of rectangular arms.
4) Buy the Best Quality Furniture that You Can. Good quality furniture will hold up better over time and be a great investment. Look for sofas with all wood frames from a kiln-dried hardwood like oak or maple. A wood frame is also healthier as alternatives can have chemicals like formaldehyde. The springs are also an important element and 8-way hand-tied springs are ideal. Some other configurations can be comfortable, so try the sofa out for support.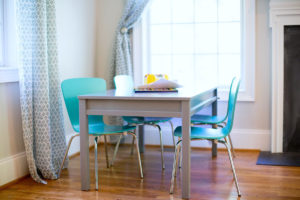 5) Include storage and spots for fun. If your kids love crafts include a craft table or a use a storage coffee table with a wood top. Hide the supplies in drawers or arrange them by color in cups for a cute look.
I love a storage bench with a cushion top for multi-use toy storage and seating. You can also find attractive storage bins made of jute and other natural fibers. These bins look great arranged in threes. I also love the look of an old chest as a coffee table and it can double as a toy chest.
Include personal items in the space to make it feel like home for everyone including family heirlooms, family photos, and framed child art. These are the things that will make each person smile when they walk in the room.